19 Towers, 22 Days
a sample itinerary for completing the All-Japan Tower Association Stamp Rally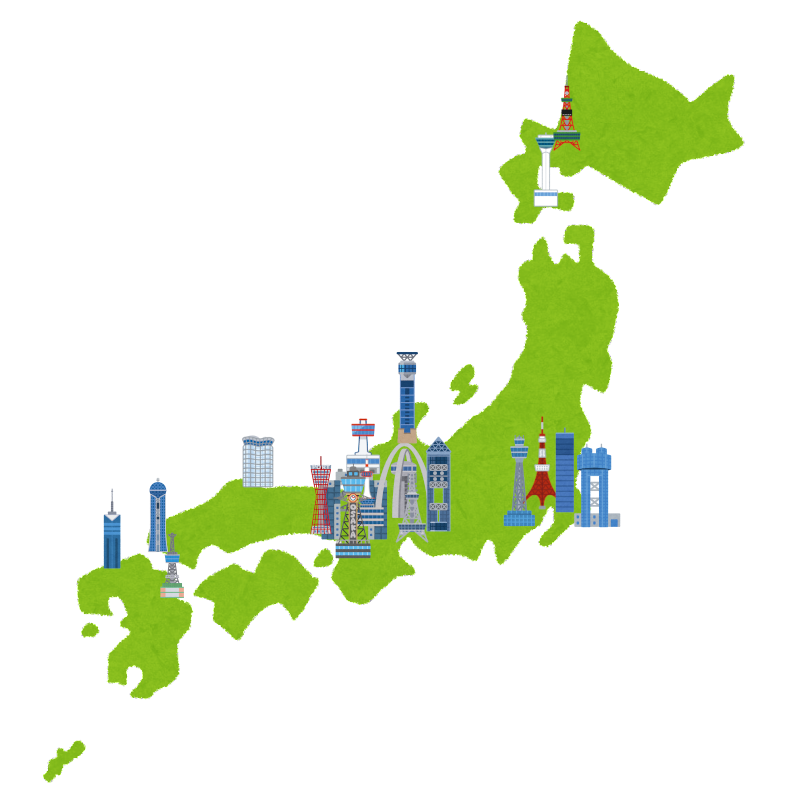 The All-Japan Tower Association Stamp Rally. I'm not sure where I first heard of it, but I feel like it's been left to simmer somewhere in the back of my head for a while now. I've been to a couple of the towers in it, so perhaps while in the visitors center/gift shop for one of them, I happened to notice something regarding the stamp rally, since that's the exact sort of thing that catches my eye. Lately, though, I've been in one place for long enough again for my mind to fill with travel, and for the first time in a while, it's turned to that forbidden fruit of the past two years: Japan. Maybe it's just a case of "Nostalgia of Island", but another trip is definitely on the table, eventually. The only issue is that I've been there, done that a few times already, so when I sat down and started thinking of where to go next time in Japan, I got what I suppose you could call "traveler's block". Then, while looking for fresh travel ideas by sifting through the Japan part of my recollections, something bubbled over and grabbed my attention: The All-Japan Tower Association Stamp Rally. It sounds crazy but this could be it, I thought as I looked up details online.
Completing the All-Japan Tower Association Stamp Rally is simple: within one year, visit and collect a stamp from all 19 towers across Japan in the All-Japan Tower Association. Your reward? An official certificate and your name immortalized in the online register on the Tower Association website; in brief, eternal glory. It's equal parts silly and serious, the perfect fit for me. I also like how it can give a theme, a narrative, a story to a trip. You're not just some schmuck tourist randomly stumbling between the sights featured in the collages on Wikipedia pages for cities, no, you're on a Quest, a Journey. You have concrete steps that build towards an ultimate goal, however dubious it may be. Finishing your trip successfully becomes an actual accomplishment, one that is in fact more impressive than many achievements people are proud of, when you think about it. Take, for example, getting a college degree. At this point, hundreds of millions of people have graduated from college, but only around 1400 people have completed the All-Japan Tower Association Stamp Rally. As Westerner, it is even more impressive, since nearly all the finishers are Japanese, with the foreign ones almost all from other Asian countries (lots from Hong Kong, for some reason). There are only three that are definitely from the US, and none at all from Europe. It may be too late to claim the title of first Westerner or American to complete the Stamp Rally (damn it #458 ALEXANDER KRAMARCZUK USA MINNEAPOLIS), but it's still an extremely exclusive club and good fodder for starting conversations, an About Me page, a dating profile, or a resume (maybe). (If you're European, on the other hand, you've still got a chance to be a first! Get out there and go for it! Don't forget to thank me in your acceptance speech...)
The Stamp Rally, obviously, is also the perfect solution to my "traveler's block" issue. The travel destinations have all already been decided by the locations of the towers, and I just have to figure out the best way to link them together. As soon as I saw the map of the tower locations above, I knew that it was perfect. There was a good variety of towers – some were popular tourist destinations in big cities, some were offbeat tourist destinations in big cities, some were out in the middle of nowhere and trying very hard to be tourist destinations. They were scattered throughout the whole country, in such number at and such distances that you could string them together like beads on a rail necklace. The time limit for completing the stamp rally is one year, but you could conceivably visit them all over the course of a two- or three-week train trip. As someone in my position, who can only visit the country once every other year or so for a few weeks at a time, that was realistically the only way I was going to be pulling it off. It would be a bit of a whirlwind trip, moving between cities and riding trains for a few hours every day, but if anything, that's a selling point to me. In fact, that describes my last Japan trip to a T, so now I could just repeat it, except with Towers.
All of this is also possible for me thanks to the venerable Japan Rail Pass, which, for those not in the know, might be the best travel deal in the world. For the duration you purchase it for (7, 14, or 21 days, $278, $444, and $569 respectively), you get unlimited, hassle-free travel on JR's nationwide rail network (envied the world over), including the Shinkansen. As someone who both enjoys train travel and has a strong drive to get his money's worth, I've always gotten train travel out of the rail pass that otherwise would have costed many times more than I paid. With the two or three week passes, you practically have to be willfully negligent not to get your money's worth, since just three to four decent-length Shinkansen rides is enough to do so. It's such a good deal that they have to restrict it only to foreigners on tourist visas, otherwise they would surely go bankrupt. Thanks to the rail pass alone, as a foreigner I actually have a huge cost advantage over domestic tourists when it comes to completing the Stamp Rally, albeit with a pace requirement that may turn some people away. Maybe that's why you don't see very many foreigners completing the stamp rally, despite the Japan Rail Pass being almost the perfect fit for a quick attempt. They don't record (online, at least) how long it takes people to finish the Stamp Rally, and I do have to wonder where my Rail Pass Stamp Rally plan would land among them. It's probably a good thing they don't, though, since I just know that then I would be putting together a hellish itinerary consisting only of trains and towers, trying to use my Rail Pass advantage to beat the record.
Preliminaries
The basic trip structure will make use of a format that I've used before and thought worked quite well. It's kind of a rail pass trip sandwich, with big city bread. You start off and spend a good amount of time, usually at least several days, in either Tokyo or Osaka, then depart and do a rail trip across the country for two to three weeks. You end the rail trip in the other big city, spend some time there, and then fly out from it. This structure works well for visiting the towers, since there are quite a few clustered around both Tokyo and Osaka, which you can visit at your leisure while you're staying in those cities. The duration of the rail trip for this particular plan is two weeks, as I don't mind keeping a brisk pace and spending several hours per day on trains, though for a more relaxed pace, it would be easy to extend it into a longer, three-week trip. Having a stricter time limit of two weeks for the rail portion of the trip also means that more cleverness and creativity, or just time spent planning, is required when with working out the itinerary, yet another draw for me.
Since the rail trip portion is two weeks, it would seem to make the most sense to get the two-week Japan Rail Pass and use it just during that portion, and that's how I was originally thinking of doing things. After all, the two-week pass is cheaper than the three-week pass by about $125. Then, I finished the outline of the whole itinerary, and noticed that it was almost exactly three weeks long (plus one day), and still contained a significant amount of travel on JR lines to visit the towers located around the big cities at either end. There's also plenty of JR lines within Tokyo/Osaka that would be useful for non-tower-related travel, if I even dare consider doing such a thing. I made some quick estimates considering just travel to the more far-off towers by Tokyo/Osaka, and I still think you would save around $30 using the two-week pass over the three-week pass, but it's no longer so clear-cut. At that point, the convenience gains may be worth it, so I'm still not sure which one I'll go with in the end.